Chudleigh Pioneers
We each painted one part of this picture and then put it together like a jigsaw to show we are all children of God. God loves everyone. This canvas can be found on a wall in the Key Stage one corridor.
I wonder if you know which part of the bible it comes from...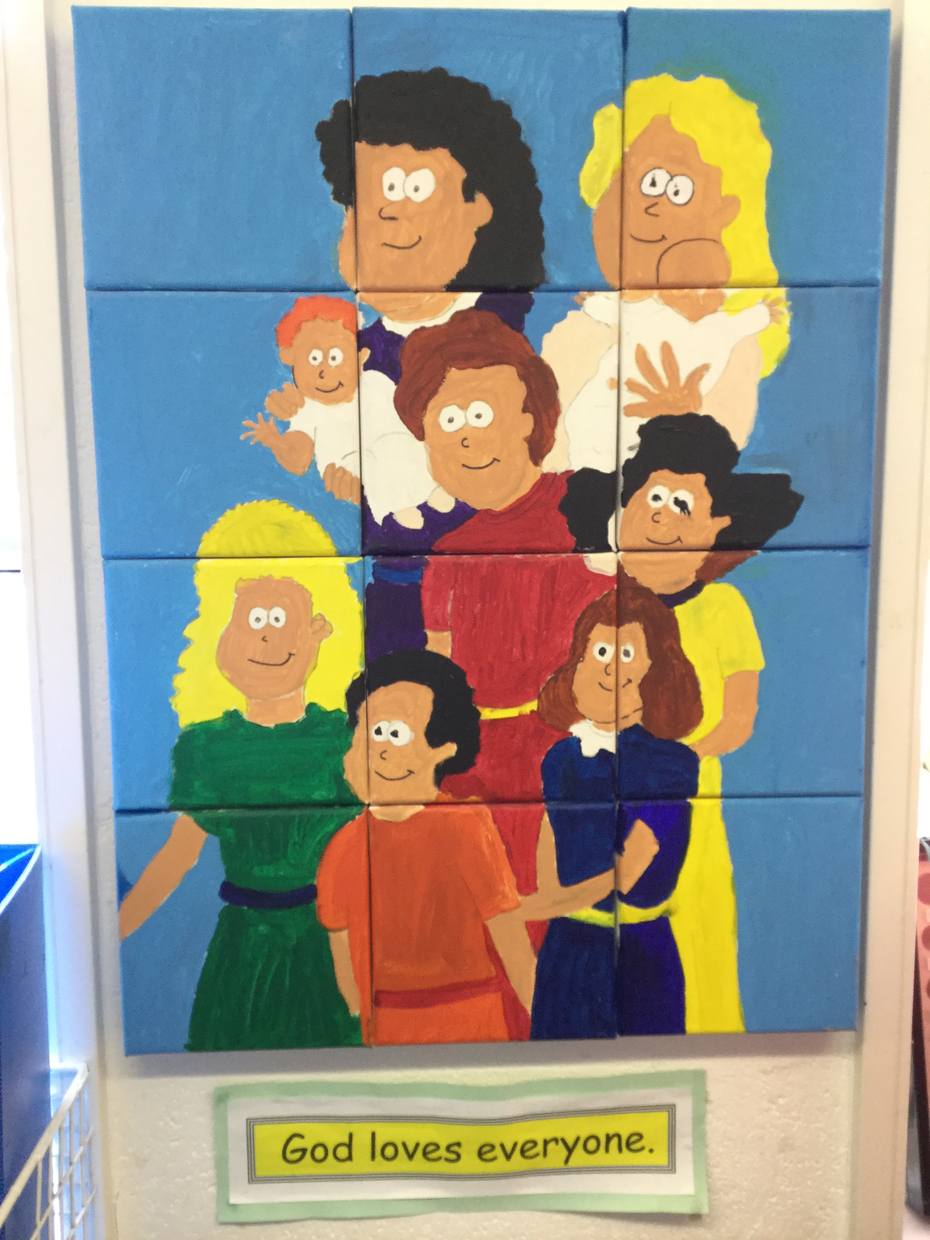 Chudleigh Pioneers Visit to Trusham Church (Pupil Voice)
'This is the best day of my life. These cookies are amazing! I love it here!' (Kyra)
'It's small, but it's got real character!' (Joe)
'Look, I've found the bells! Wow!'
'I learnt that churches are about people not just the old building.'
'I loved the secret door for the switches.'
'I found the cross of St Michael on the chairs.' (Ben)
'The church hall used to be Trusham School. I think my school is better.' (Ethan)
'I spotted the font near the door because that's how you enter God's love.' (Sophia)
'It was a nice mixture of old and new.' (Annie)
'I like it because it is so small and most churches are bigger. There are so many interesting things in it.' (Tori)
'I was surprised to see some of my dead relatives there.' (Joe)
'Those skeletons are spooky.' (Joe)
'I like it that the water in the font goes underground because it is special and blessed.' (Duncan)
'This church is fascinating because it is so old and has lots of character.' (Joe)
'I like it because it's so small and you don't feel lonely like in a big church.' (Tori)
'This pulpit makes me feel powerful because its high up and I can see people down there.' (Duncan)
'It's amazing, there's so much art in church! I love Art!' (Emma)
'I like the altar cloth because it shows the dove of peace and the Holy Spirit.' (Annie)
'My favourite part of the church are the carvings because I can touch them and they feel nice.' (Kyra)
'I've found St Michael in three different places!' (Ben)
'The flames of Pentecost are quite intricate and look like they're flickering to show God is alive.' (Emma)
QUESTIONS
What do hymns actually mean? (Ben)
Why isn't there a crown of thorns on Jesus' head? (Ben)
Why did they have to rebuild it? Maybe it was very old and might fall down. (Ethan)
Are there bones still under the ground? (Ethan)
How old were the people in the churchyard when they died? (Finlay)
What is that dragon doing at St Michael's feet? (Ben)
At Chudleigh Pioneers we work closely with children who go to Messy Church to make different banners. These banners are displayed in the church to help people in the community to understand different times in the Church year.