FOCS: Friends of Chudleigh School
Friends of Chudleigh School are a group of parents who arrange various fund-raising events during the School year, including Cake Sales, a School Disco and an Easter Fair.
We are committed to supporting our children's education whilst they are pupils at Chudleigh Primary School. We do this by raising money for new equipment for the School. Over the last three years, we have raised more than £31,000 for a new School minibus, an achievement which the team are very proud of.
Other fund-raising projects have included the pond dipping platform within the environmental area, refurbishing the cookery kitchen, storage sheds for the playgrounds and paying for key stage 1 playground equipment. We also try to fund treats for the children during the year, including ice pops for sports day, Christmas crackers at Christmas lunch and a contribution towards the party for Year 6 leavers.
For the latest information about forthcoming events and activities, visit our Facebook page at www.facebook.com/friendsofchudleighschool.
The fundraising for the minibus was helped by our local Coop Foodstore in Chudleigh. FOCS was chosen as the Charity Partner for the Coop. This is a Scheme where 1% of everything you spend on Coop Products is donated to Friends of Chudleigh School, provided that you have a blue membership card and have selected FOCS as your chosen Charity. FOCS has been selected to continue its partnership with the Coop until October 2019. This time all funds raised will pay for improvements in the environmental area.
If you would like to become a Member of the Coop, or select FOCS as your chosen Charity you can do so by clicking this link www.coop.co.uk/membership.
Please note that donating 1% to Charity has no impact on your own personal rewards earnt through the membership scheme.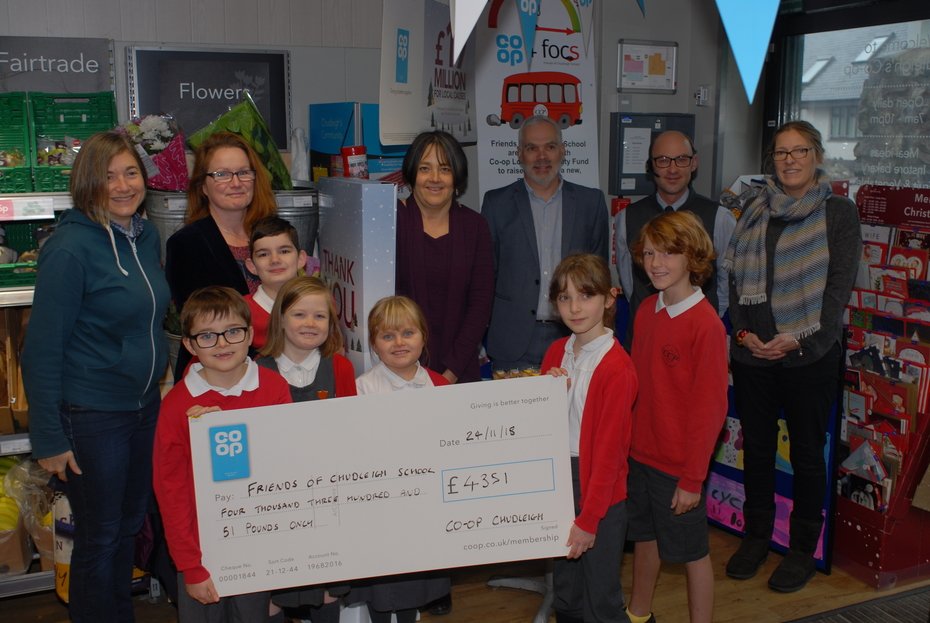 Some members of the FOCS Committee with Headteacher David Barnett and pupils collect a cheque for £4,351.12 from Store Manager Matt Hooper towards the minibus.
Current FOCS Committee members are:
Emily Farrell (Chair) – children in Year 4 and Year 6
Lucy Moule (Treasurer) – child in Year 3
Jemma Lessware – child in Year 6
Sam Bennett – child in Year 6
Kath Perry – child in Year 4
Alice Brown – children in Year 6 and Year 2
Bobby Hughes – child in Year 5
Becky Keyse – child in Year 5
Tanya Hunt – child in Year 1
We also have a number of other helpers and supporters who volunteer at events.
If you would like to join us or help out you can leave a message at the School Office, email us at FOCSChudleigh@hotmail.co.uk, message us via Facebook or talk to any of us in the playground.
Friends of Chudleigh School is a Registered Charity No 1060790.