Sainsbury's Active Kids
Thank you Sainsbury's for the fantastic box of equipment which we have received in appreciation of our ongoing support of the Active Kids scheme.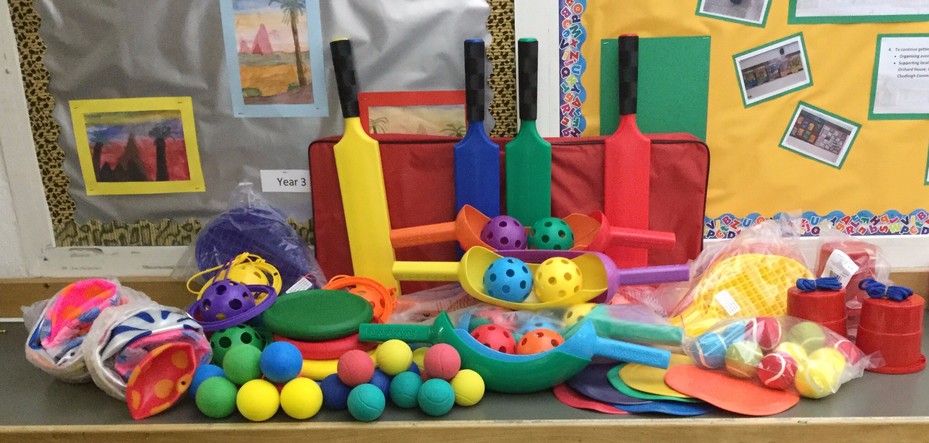 On the 22nd of June 2016, we had someone from Devon Recycling Centre come in and lead an assembly about the importance of recycling. Then she did a work shop with Year Fives and the Year Twos. During these workshops, we had to power a light using a lemon, potato or an orange. It was great fun! At the end of the session all the Year Fives got together and made one big light light up using lemons, potatoes and oranges.
As a school, we have entered a competition to try and collect the most broken or unusable electrical appliances. If we win, we will receive £250 for the school.
World Book Day
On Thursday the 10th of March, it was World Book Day so we all came into school dressed as a character from our favourite book. All the teachers came in dressed as 'Where's Wally?' including Mr Barnett!
Music Concert
On Wednesday 27th January, Children from across Key Stage Two dazzled parents with their music talents at the concert which was held in the school hall.
Mrs Marion Hughes worked really hard with over 60 children from across Key Stage Two to perform a variety of solos, duets and ensembles for parents and staff. The evening saw talents from the string, woodwind, percussion, piano, choir and orchestra.
Mosaic unveiling
The Year 2 and Year 6 children have been working hard to brighten up their playground by designing and making two large mosaics.
The idea came from the school council who wanted to improve the outdoor environment. Parent governor (Suzanne Hill) researched different projects that the children could get involved in through the Devon Guild. Suzanne also approached the Helen Foundation who kindly supported the project with a substantial grant. The Year 2 children drew seaside pictures which were given to local artist Michelle McQuinn Farrand, who put them together into the designs for the mosaics. The Year 6 children then worked with her over 4 days to cut the tiles and assemble the finished products which are now on display in the playground.
The two mosaics were officially unveiled at the school by Suzanne Hill and Annie Grant from the Helen Foundation.