Saints South West Soccer School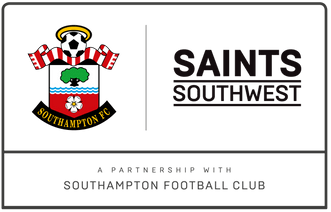 Saints Southwest is an official club partner of Southampton Football Club to support the development of the programme, in order to benefit from the expertise and experience of one of the world's leading player development programmes in World football.

Saints Southwest operate in Cornwall, Devon, Somerset and Dorset. We pride ourselves on being able to reach all children through various education, football and sporting activities. Alongside our community programmes we provide a pathway which supports Youth Academies in nurturing and developing players to become the best they can be on and off the pitch.

This website will provide you with an oversight of the range of work delivered by Saints Southwest, to both young people and adults. We are committed to growing our footprint over the coming years, while sustaining our present services and fruitful relationships within the community.

QUALITY ASSURANCE
Parents want assurances that their children are being taught to the highest level. The Saints Southwest programme evolves through shared knowledge amongst qualified coaches and teaching professionals. Coaching modules and regular CPD events help extend the knowledge of our workforce, enabling them to deliver sessions which are engaging, enjoyable and challenging, specific to the child's age and ability. All staff are fully qualified, licensed and have enhanced CRB/DBS checks completed. Staff are regularly assessed and have to attend Continued Professional Development training 3 times per year. Saints Southwest pride themselves on excellent customer service standards and having the ability to tailor many services.
SAINTS SOUTHWEST PHILOSOPHY
S - Standards: Setting a positive professional standard throughout anything a person can do. Having a good attitude to learn, help and develop to be the best you can be. Being a good role model to people around you and to be accountable.
A - Aspiration: Aiming high and having the ambition to improve. Having the ability to self-evaluate and having the desire to move forward.
I - Integrity: Learning the importance of respecting yourself and others. Understanding that being honest and having strong moral principles is important.
N - New Thinking: Thinking of new ways to help, support and develop. Being creative to overcome challenges you may be faced with.
T - Together: Understanding how working as a team can be effective. Cooperate with people. Having the ability to help and provide constructive feedback.
S - Skills: Having the determination and energy to improve your skills. Understanding the importance of practice. Identifying which skills can be applied to different situations.
For more information, please visit our website www.saintssouthwest.co.uk, call 01803 206350 or email info@saintssouthwest.co.uk.